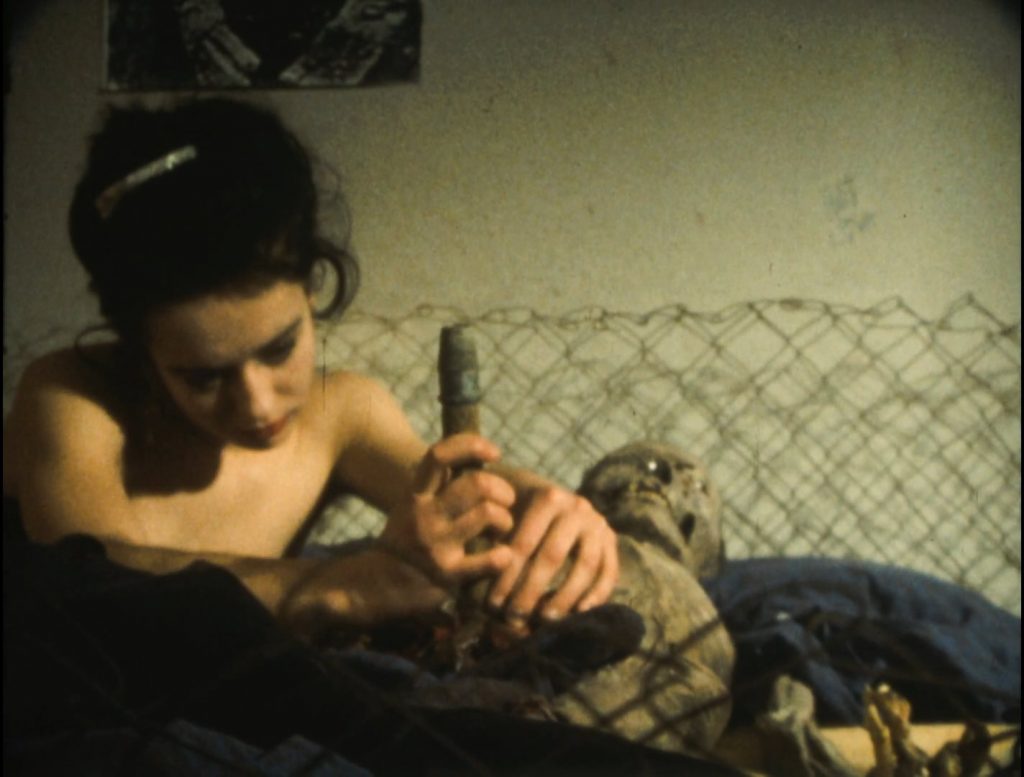 Jörg Buttgereit created this film as a statement about censorship in Germany. When viewed through that lens it doesn't disappoint, but just about any other perspective will leave you wanting. Plot? Shakey. Character development? Sorta.
To briefly summarize, the film centers on a young street cleaner whose business seems to primarily focus on cleaning up after gruesome car accidents. Luckily for him and his necromaniacal girlfriend this provides access to plenty of corpses. Typically stealing an eyeball here, a heart there, he amasses a collection of body parts in jars in his humble apartment. These play a delightful role in his sex life, but the real prize is a full corpse he manages to sneak back.
Sadly, after a brief period of triad bliss (boy, girl, and corpse, ooh la la) the gal makes a decision and absconds with the mummified fellow. Sorry dude, but how could you possibly compare to the rusty length of pipe installed between Sir. Always Up's dried out legs?
Naturally this makes our street cleaner upset. Eventually this angst drives him to find another corpse to sport fuck, albeit one that starts his date alive. Once he's finished there he returns home and we're left with a wonderful final scene of him masturbating to completion and then some, as he cums buckets of semen and blood from a penis that gives new meaning to "wood".
The real surprises here come from the subject material, but then in hindsight the escalation of events seems only natural. The twist occurs just a few minutes in as we realize how serious the movie's title was, and the rest follows suit somewhat predictably. Sooo…low points for offering a surprising ending.
Similarly, we don't find out what happened with the girlfriend and Sir Always Up. And does our humble street cleaner face any consequences for his murder/rape? Does his job ever notice the missing organs? All of these loose ends detract from the general sense of satisfaction, but on the other hand, cumming blood?! Maybe the sequel (which I haven't watched yet) will handle the rest. Okay, some points are added back.
Which leaves us with…
Twists: 3
Execution: 2
Satisfaction: 7
Bottom line: Give it a pass unless you're a big fan of the gore genres, anti-censorship, or, uh, you find corpses sexy.